Dental implants
Dental implant treatment is no longer a novelty. It is a proven, highly successful method of treating dental defects, from the loss or failure of a single tooth to a complex solution for an edentulous jaw. The basic prerequisite for successful implant introduction is good overall health of the patient and subsequent cooperation in maintaining meticulous oral hygiene. The surgical phase of the treatment consists of applying local anaesthesia, uncovering the mucosa and placing the implant into the bone. Finally, an X-ray is taken to check the desired position of the implant.
The surgical phase is followed by the prosthetic phase that is very important for the patient, as it delivers results visible not only on the X-ray, but also to the naked eye. Once the mucosa around the implant has been properly shaped, the abutments are screwed onto it, followed by the impression and fabrication of the final prosthetic superstructure (crown, bridge, or hybrid removable restoration) in the laboratory.
We use dental implants by Astra Tech, Straumann, Nobel Biocare, and Dentis.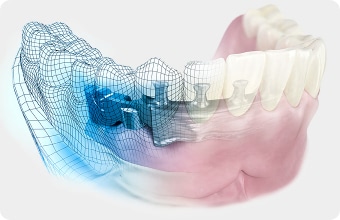 Order yourself